Count Chopula is the first bike I built in the Rat Patrol style, and is therefore comprised mostly of garbage. The frame is built from two trash bikes, and the wing-wood and sissy-bar conduit was ripped out of an old warehouse. I did, however, purchase the fork piping, nuts and bolts, and spray paint, pushing the cost of the bike upwards of $12. An all-trash bike is a difficult, but by no means impossible, thing to accomplish.

Count Chopula is a vampire bike, it chops other bikes in the night and its victims cannot be restored to their original state until the master chopper is killed. Noone knows how long it lay discarded after its first life, but on the first night that it rose from the grave, it fell over and two bolts at the top of the fork bit me in the neck, drawing blood.

Welding an extra set of cranks forward of the original set puts the rider in a recumbent position, making Count Chopula a very comfortable bike to ride for long distances.
Count Chopula's wings flap when the bike is pedaled. Initial wind tunnel tests have been inconclusive, so flight is not yet possible... in bat form. In mist form the bike is infinitely portable but not rideable.
Here you can see the wing-flap mechanism. A pivot on the original crank pulls a cord that passes through a pulley and lifts another line between the wings. I was struggling with a locomotive-style piston design when SingularGirl suggested this simple use of a pulley.

The Count wouldn't have been possible without a great number of people. Mike provided the old mountain bike. Josh and John not only did the welding for me, Josh inspired the use of a women's mountain bike to give the frame more of a peak, and John provided a number of raw materials. Gareth taught me the joys of superfluous motion. Lee showed me how a recumbent can be made from a standard diamond frame. Chopper Bob challenged me to make a chopper that could be ridden over long distances. And Matt and Nathan led me to the wonderful world of trashbikery.

The backrest was padded and the cowling filled in. The headlight is powered by a dynamo on the front wheel.
My grandpa (who also welds old junk together) has a junkyard around his shop, and all my life I've seen these two motorcycles laying in there, covered in vines. After 27 years, I decided to take a closer look, and was stunned to find these handlebars for the Count:
Obviously, they're custom. The owner of the motorcycle had also put huge looping highway bars on his old 450cc dinkybike.
This is the Count right after it was chopped for The Second Annual St. Chino's Run. Observe the Count Chopula sticker on the headtube and the cushy Snapper seat.
After Count Chopula broke in half on the St. Chino's Run, I rebuilt it with a softtail: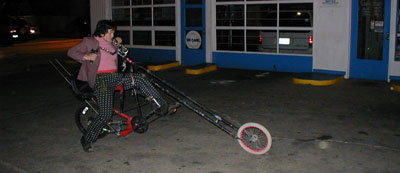 While in England, I fell in love with the RPUK's sturdy mountain choppers. I decided I wanted one:
Then I put the brake shoe off an old train car on the back, and activated it with a lever:
<------back