Trampoline Trailer
Working as a bike valet* at this summer's Taste of Chicago, I met these two dudes (one of them even had one of those bikey names, like "Crank" or "Skitch") who were traveling around the country with their homemade trailers, making money hauling people around at festivals and such. They had it down to a science, swapping out 20" wheels as though they were disposable, breaking chains on their mountain bikes, and hustling as much as they could before the cops kicked them out for not having a mobile vendor's license. In a ratty way that shames even the Rat Patrol**, one of the trailers was cobbled together from a chopped-up trampoline that Torque or Lube had found in the alley: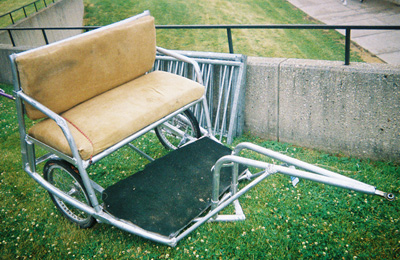 *it was nice, I parked bikes and got paid to see a Kenny Rogers concert.
**it takes a special kind of person to find a broken trampoline and make money from it.